Baby birbs are dumb.
Birds are fed by their parents in their infancy. When the time comes to feed themselves, there can be some confusion when the food does not go into their mouth by itself. pic.twitter.com/8kDa1hhRgb

— Fascinating (@fasc1nate) October 18, 2022
Here's A BUNCH OF TV News
Sara Hess, an executive producer and writer on House of the Dragon, has no idea why all you horn dogs have the hots for Daemon:
"He's become Internet Boyfriend in a way that baffles me. Not that Matt isn't incredibly charismatic and wonderful, and he's incredible in the role. But Daemon himself is … I don't want him to be my boyfriend! I'm a little baffled how they're all, 'Oh, daddy!' And I'm just like: 'Really?' How — in what way — was he a good partner, father or brother — to anybody? You got me. He ain't Paul Rudd."
GIRL. HAVE YOU BEEN WATCHING YOUR OWN SHOW?
anyway, goodnight to irredeemable dragon DADDY daemon targaryen and to him only pic.twitter.com/Rvldrbxp6V

— bee | hotd brainrot (@fangirlingmess) October 18, 2022
Fans are REAL MAD at Hess:
Daemon and daemyra get behind me I'll keep you safe. pic.twitter.com/VNpZ1JzMtF

— Gabby (@wonderlandgabby) October 18, 2022
— ruby (@fortargaryen) October 18, 2022
sara hess is waiting to assassinate daemon's characters the way d&d did dany, we are enetering our second trident war

— lina 🍃 (@jacebaela) October 18, 2022
daemon:
"(otto) doesn't protect you, i would" & was right
-advocates for luke's birthright
-kills vaemond for calling nyra a whore
-walks viserys up the throne, crowns him
-won't let maesters cut laena open

sara hess:
"but how was he a good partner, father, or brother???"

— ali | free me from hotd (@poppyshilI) October 18, 2022
Two of the best character moments of Daemon was an input by the actor, and Sara Hess wanted to diminish the character into something 1-dimensional. Who's gonna tell her "House Targaryen has produced both great men & monsters. Prince Daemon was both" ??#HouseOfTheDragon #HOTD pic.twitter.com/cNFe913lBW

— 🐣 (@gonlyb) October 18, 2022
I forgive you Miguel, It was Sara Hess who cut this scene because she wanted to show Daemon isn't a good father smh. pic.twitter.com/SKRwK0PWH8

— Art of Ice and Fire (@ArtofASOIAF) October 18, 2022
so tell me if i'm wrong but so far sara hess has removed necessary scenes (daemon comforting his daughters) and added in unnecessary ones (the alicent and larys scene) and spoken of sympathizing with aegon and rapists who don't "think" they're rapists

— sansa, chief niggerologist and rhaenyra defender⁷ (@queenalysxanne) October 18, 2022
YOU GOT TO BE REAL CAREFUL WITH THE FANDOM, SARA HESS. THEY DO NOT PLAY.
Here is a decent ranking of characters on House of the Dragon who deserve to be dracarysed. BURN SER CRISTON COLE. BURN HIM TO A CRISP.
Oh shit: according to some business insiders, if NBC does away with the 9/10 p.m. hour of primetime programming, we can expect ABC and CBS will follow suit. Stay tuned.
The Daily Show is reportedly considering replacing Trevor Noah with two hosts: Roy Wood Jr. and Desi Lydic.
The real family from The Watcher — the Broadduses — is not watching The Watcher, and have declined to do any press. However, you can follow Mr. Broaddus on Twitter, where he tweets about The Watcher and the story that inspired it.
The creator of The Crown is insisting that the show is not going to be "unkind" to the royal family in this upcoming season. THAT SAID, the tampon incident will definitely be included. This might finally be the season of The Crown that I make it all the way through.
That one Bachelor in Paradise contestant who passed out in Monday's episode says he injured his foot so badly in that fall that he hasn't walked in four months.
Netflix announced that it has added 2.4 million subscribers last quarter, reversing a decline that had freaked everyone out. And this is before the addition of the ad-supported tier. CEO Ted Sarandos is feeling pretty good about Netflix's $17 billion budget for the year. They also announced that they have no plans to do away with the binge model, contrary to rumors that they were thinking releasing episodes weekly.
This is a great list of the scariest episodes of television on non-horror series. While "The Man Behind the Curtain" from Lost is a great choice, the "Teddy Perkins" episode of Atlanta remains one of the most disturbing episodes of television I've ever seen. 10/10 highly recommend.
Americans' trust in the media is at an all-time low which does not bode well for our democracy. I'm going to say something that sounds like I'm oversimplifying, but stay with me: this is largely Fox News' fault. For decades, the news was delivered in a non-partisan way, and conservatives hated it, feeling as though reported facts had a bias against them and their perspectives. I grew up with educated conservative parents — I know this from lived experience. Though they read The New York Times and watched ABC News, it was always with a sense of grievance that somehow the news wasn't being reported "fairly." When Fox News came along, it allowed right-leaning people to consume the news from their own preconceived version of "truth" all the while Fox News was telling them that other sources were "fake news." And so here we are: Fox News viewers (and OAN and Newsmax) believe that the "mainstream media" are all liars shilling for the "elites" while everyone else looks at the craziness coming out of Fox News — and how it has worsened our partisan divide — and worries that the mainstream media sources aren't up to the task of countering the lies and distortions pouring out of the right-wing echo chamber. We're not in a great place, guys!
Olivia Wilde and Jason Sudeikis' former nanny has been cashing in apparently, and talking to The Daily Mail all about Wilde and Sudeikis' explosive fights. According to the nanny, Sudeikis once laid down in front of Wilde's car to prevent her from going to see Harry Styles after he learned she had made her "special salad dressing" for Styles. She also accuses Wilde of giving away the family dog and stringing Sudeikis along for months, but the salad dressing is what is getting all the news.
In a joint statement, Wilde and Sudeikis claimed the nanny is lying. But then Wilde posted a picture from Nora Ephron's book Heartburn, with a salad dressing recipe in it? So people think she's confirming the nanny's story?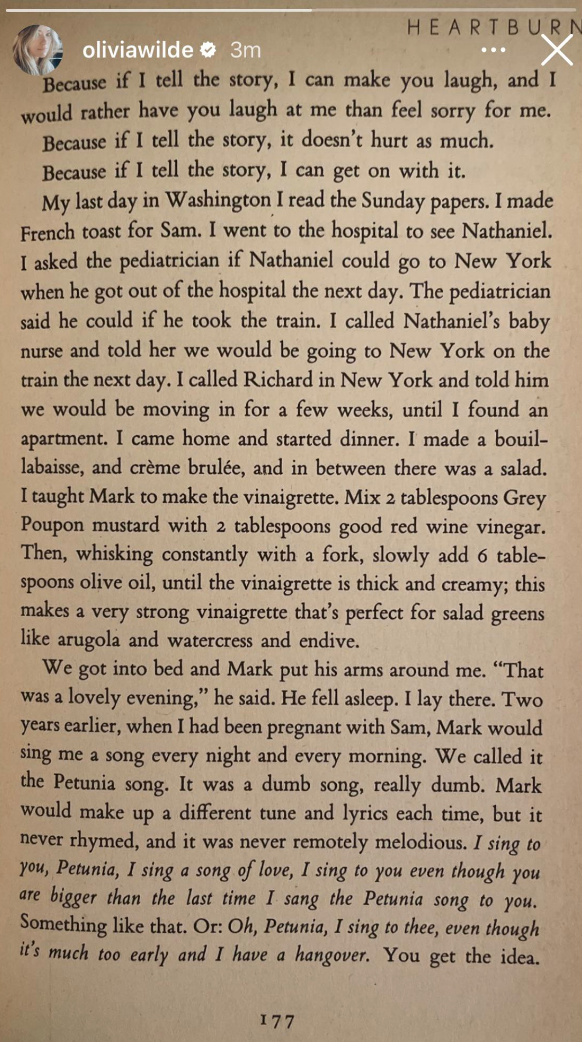 Like I said, Kelly Ripa doesn't care that Kathie Lee Gifford isn't going to read her book. (The petty bitch in me who lives for the drama is not-so-secretly thrilled that these two are not longer playing nice, I have to admit.) Ripa also says that if she knew then what she knows now about Live with Regis and Kelly!, she probably wouldn't have taken the job. But not because Regis was a monster — because he didn't want a co-host at all.
Here's a little love letter to the late great The Young Ones. My Gen Xers know what I'm talking about.
When Jen Shah be at The Real Housewives of Salt Lake City reunion? ¯\_(ツ)_/¯
Matthew Perry very nearly died four years ago thanks to an opioid addiction. Glad you're better, stay sober.
Carson Daly is back on The Today Show after a seven-week absence following a spinal surgery. And here I had no idea Carson Daly was even on The Today Show.
Renewals
In Development
City Island, an animated series featuring the voices of Kimiko Glenn, Kimia Behpoornia, and guest stars Amy Schumer, Julio Torres, James Adomian, Debi Mazar, and more, has been ordered at PBS.
A medical drama set in the Spanish Civil War from Matthew Hastings, the executive producer of The Handmaid's Tale, is being shopped around.
Carol Mendelsohn and Julie Weitz have signed a multi-year first look deal with Fox. They will adapt The Bomb Maker for the studio.
Casting News
Mark Your Calendars
The Sex Lives of College Girls returns on HBO Max on November 17.
The People We Hate at the Wedding will debut on Prime Video on November 18.
Young Royals returns on Netflix on November 1.
Slow Horses will return on Apple TV+ on November 2.
Christmas With You will premiere on Netflix on November 17.
Diary of a Wimpy Kid: Rodrick Rules will premiere on Disney+ on December 2.
R.I.P.
Robert Duff, Singer of the Tuft Darts, and staple of the rockabilly punk scene
WATCH THIS
American Horror Story: This season is "AHS: NYC" and, as with every season, we know little to nothing about it. That said, I wonder based purely on the teaser trailer, if the season won't be based at least in part on the real serial killer who preyed on gay men back in the 70s, and who was never caught. Who knows? But it just feels like something Ryan Murphy would run with. Season premiere. 9 p.m., FX

Documentary Now!: I don't know how this quirky niche series keeps getting renewed, but I'm not going to look a gift horse in the mouth. Season premiere. 9 p.m., IFC

The School for Good and Evil: A pair of friends are delivered to a school that trains the heroes and villains of fairy tales, and are pitted against one another. And Netflix paid out the big bucks for this one: Laurence Fishburn, Charlize Theron, Michelle Yeoh, and Cate Blanchett are among those who star. Premiere. Netflix
Love is Blind: This trash show with a 0.000 success rate is back. And God help me, but I know I'll watch. Season premiere. Netflix
Late Night:
Jimmy Kimmel Live

: Mila Kunis; Ramy Youssef; Future

The Daily Show

: Brandi Carlile
| | | | | | | |
| --- | --- | --- | --- | --- | --- | --- |
| WEDS. | 7:00 | 7:30 | 8:00 | 8:30 | 9:00 | 9:30 |