Look at these swamp babies!
Big stretch.. 😊 pic.twitter.com/LQ2IISuAAW

— Buitengebieden (@buitengebieden) March 21, 2023
Here's A BUNCH OF TV News
As noted yesterday, the cast of Ted Lasso went to the White House yesterday to discuss mental health with President Biden and First Lady Dr. Jill Biden. After, they stopped by the White House press briefing where, amongst the reporters, was one Trent Crimm of The Independent. IFYKIK.
TED LASSO VISITS WHITE HOUSE 🇺🇸

Jason Sudeikis and Ted Lasso cast were at the White House Monday to discuss the importance of addressing mental health, a common theme within the show. But not before Ted had to field a footballing question from "fake journalist" Trent Crimm. 🙂 pic.twitter.com/5QR8zsIfog

— Men in Blazers (@MenInBlazers) March 20, 2023
I should also add that the White House press briefing got off to an awkward start when one reporter started shouting over everyone:
The White House press briefing featuring the "Ted Lasso" cast was interrupted by a reporter claiming he hadn't been called on in several months.

The cast visited the White House Monday to raise awareness around mental health. https://t.co/Pk6fCeaUlW pic.twitter.com/zQ4FcX8ZJ1

— The Associated Press (@AP) March 20, 2023
Also, this happened:
so when do we actually get to see hannah waddingham and michelle obama arm wrestle? asking for a friend pic.twitter.com/2vTYqe9f6V

— aj 🛸 (@agentdkscullyy) March 21, 2023
And this happened:
brendan hunt: renaissance man pic.twitter.com/MMAOkVxlC4

— bela ✨ (@truthbomb_3) March 21, 2023
But not at the White House? Nate. 🙁
So sorry I couldn't be there today, I was busy… 🥳 https://t.co/oTB2XzTkiq pic.twitter.com/65g8Vyw8ob

— Nick Mohammed (@nickmohammed) March 20, 2023
As for Jason Sudeikis, he seems like a real mensch. A fan gave him a hand-knitted Ted Lasso doll, and he graciously accepted it, saying that his daughter will love it. Sure enough, in the official photograph at the White House, his daughter can be seen holding the doll:
excuse me while I sob. "my daughter will love this" he said, and he wasn't lying 🥹 pic.twitter.com/I5zZJRUFQa

— sara who? (@sasha2deep) March 20, 2023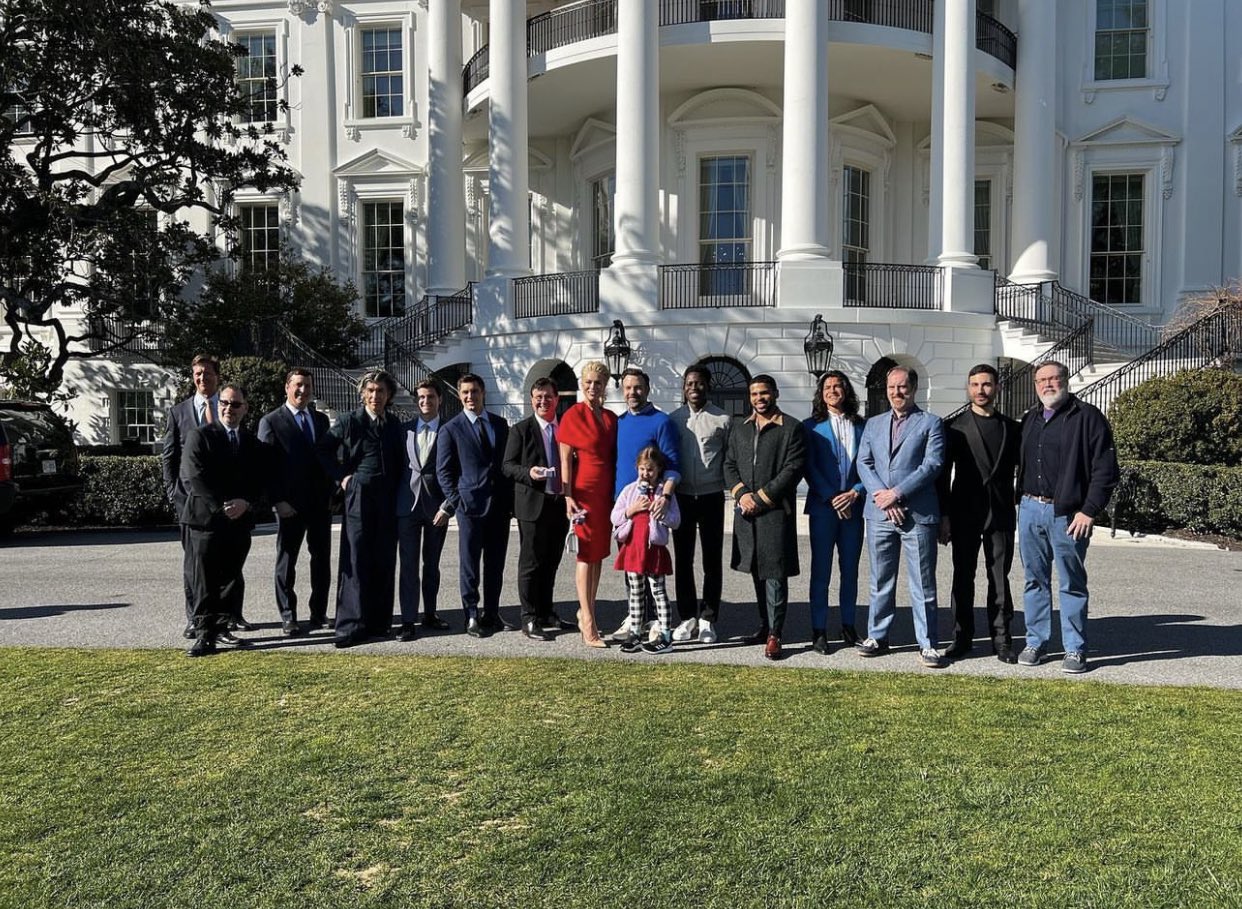 Ciarán Hinds says he was put off by how much sex was in Game of Thrones and felt it distracted from the political storytelling. I understand his point, but would nitpick that it wasn't the sex itself that distracted from the politics — more often than not sex is a huge part of the politics — but the sexposition, the use of naked women writhing around in the background while some bit of history was being told, was gratuitous and gross.
Over in the Fox News/Dominion Voting Systems lawsuit, Abby Grossberg, a Fox News Producer for Maria Bartiromo, is suing the company claiming that they tried to blame all of the defamation on her and Bartiromo to take pressure off of Tucker Carlson, Sean Hannity and other male higher-ups at the network, and she claims they coached her to lie in the case. GRAB SOME POPCORN.
Keith Urban is not interested in your toxicity.
it's come to my attention that a toxic fan is engaged in persistent cyber bullying .
I see you . STOP !
If you don't , the whole WORLD will soon see you and know you for the cruel & wicked racist that you are .
Your dumb German ass will get NUKED from orbit .

— Karl Urban (@KarlUrban) March 21, 2023
That Rory Culkin strawberries scene in Swarm was based on something real that happened to Donald Glover. So much information I didn't really need!
Oh, let's just leave Jack Bauer in Russia, please.
Get her, Quinta:
you're wrong and bad at research. I only attended a charter for high school. My public elementary school was transitioned to charter over a decade after I left. I did love my high school. That school is now defunct- which happens to charters often.

— quinta brunson (@quintabrunson) March 16, 2023
Joey and Rachel was the most egregious of all of these if you ask me.
The Daniels are going to direct an episode of the upcoming Star Wars series Skeleton Crew.
All of those recent cancellations have cut down on LGBTQ representation on TV. Over 54 series that had more than 140 LGBTQ characters have or will be ending this year.
A collection of complaints about The Last of Us.
Noah Schnapp needs to get down from there.
The reason Gwyneth Paltrow is out here talking about blowing ozone up her ass is that she hopes it distracts you from this.
But also:
matthew macfayden arrives at every red carpet looking like he just witnessed a horse being shot out back seconds beforehand pic.twitter.com/jJl7qTnWKF

— meg succession text posts (@successtextpost) March 21, 2023
#MeToo
Former Nickelodeon star Amanda Bynes was expected at a 1990s convention this weekend, but pulled out of the event. She later waved a car down near downtown Los Angeles, looking for help, and saying that she was coming down from a psychotic episode. She was taken to a police station where it was determined she needed to be placed on a 5150 hold. I'm saddened for this young woman who has had a long history of abuse and mental health issues — tomorrow is the year anniversary of her being released from her own conservatorship — but I'm proud of her for seeking help when she needed it.
I'm heartbroken for Amanda Bynes. Trauma is a lifelong beast to battle once inflicted. I hope she can get the support she needs & deserves.

Simultaneously, it's an incredible sign of the work that she has done to know that she assessed herself & sought help mid-crisis. 1/ https://t.co/L24ogIuFwn

— Sophia Bush Hughes (@SophiaBush) March 21, 2023
The fact that Amanda Bynes flagged a car down, told them she was having a psychotic episode and called 911 herself actually gives me a lot of hope for her well-being.
That's a huge deal. When she's ready, I hope she can be proud of herself for that.

— Bassey Ikpi (@Basseyworld) March 20, 2023
Amanda recognized that she needed help. SHE was the one who made the 911 call to help herself. Please be mindful how you frame stories. Knowing that she understood she needed help and actively sought it is very important. Don't take that away from her. https://t.co/9IRINfsgH1

— a l a n a ⁷ ⟭⟬ 🇯🇲🇳🇬💜 ~ set me free~ (@_ally_oops_) March 20, 2023
Chad Michael Murray, according to his female co-stars on One Tree Hill, confronted the show creator and showrunner Mark Schwahn after he sexually harassed and abused them. Be like Chad Michael Murray.
John Cena is out here making apologies and declaring his love for Vince McMahon. Don't be like John Cena.
Brooke Shields has opened up about being sexually assaulted by a Hollywood executive during the "lowest point" in her career. Check out the trailer for the documentary Brooke Shields: Pretty Baby below.
Christina Ricci says she was threatened with a lawsuit for not doing a sex scene in a certain way that made her uncomfortable.
Chlöe Bailey gives her co-star Damson Idris credit for making her comfortable for her first sex scene:
Chloe Bailey on how Damson Idris made her comfortable filming her first love scene in 'Swarm' #SXSW pic.twitter.com/jKhKmlTHj4

— Deadline Hollywood (@DEADLINE) March 11, 2023
Penn Badgley doesn't understand why everyone freaked out on his stance on not wanting to do sex scenes.
Toni Collette says that she has had intimacy coordinators removed from sets because they make her anxious.
Jessica Alba discusses using an "armor of masculinity" to protect herself as a young actress in Hollywood because there were so many predators out there.
Paris Hilton is calling out Pink for mocking her in her "Stupid Girls" video.
Ian Metrose, a longtime CBS executive, has been fired for being involved in the Les Moonves/LAPD mess.
Renewals
In Development
Casting News
Mark Your Calendars
Vanderpump Rules has released a mid-season trailer that includes footage of the "Scandoval" fallout. Vanderpump Rules is currently airing on Bravo.
Sweet Tooth returns on Netflix on April 27.
Pretty Baby: Brooke Shields will debut on Hulu on April 3.
A Black Lady Sketch Show returns on HBO on April 14.
Couples Therapy returns on Showtime on April 28.
R.I.P.
Paul Grant, Character actor who appeared in Harry Potter and the Sorcerer's Stone, Return of the Jedi, Willow, and others
Ruben Igielko-Herrlich, Film marketer
Bobbi Kelly Ercoline, Woman who was featured on the Woodstock album cover
WATCH THIS
American Masters: Dr. Fauci reflects on his life and career as the head public health official during one of the most tumultuous moments in recent history. Premiere 7 p.m., PBS

Booksmart: Just including this as a reminder to Seth Rogan that there have been great high school movies since Superbad. 7:30 p.m., MTV2

Annabelle: Annabelle walked so that M3GHAN could dance. 9:40 p.m., HBO2

Late Night:
Tonight Show Starring Jimmy Fallon

: Jennifer Aniston, Sarah Snook, Preacher Lawson

The Late Late Show with James Corden

: Brendan Hunt, Nicole Byer, Orion Levine

Jimmy Kimmel Live

: Julie Bowen, Jamie Demetriou, Depeche Mode

The Daily Show

: Guest host Al Franken

Watch What Happens Live

: Rachel Fuda, Jenn Fessler
| | | | | | | |
| --- | --- | --- | --- | --- | --- | --- |
| TUES. | 7:00 | 7:30 | 8:00 | 8:30 | 9:00 | 9:30 |